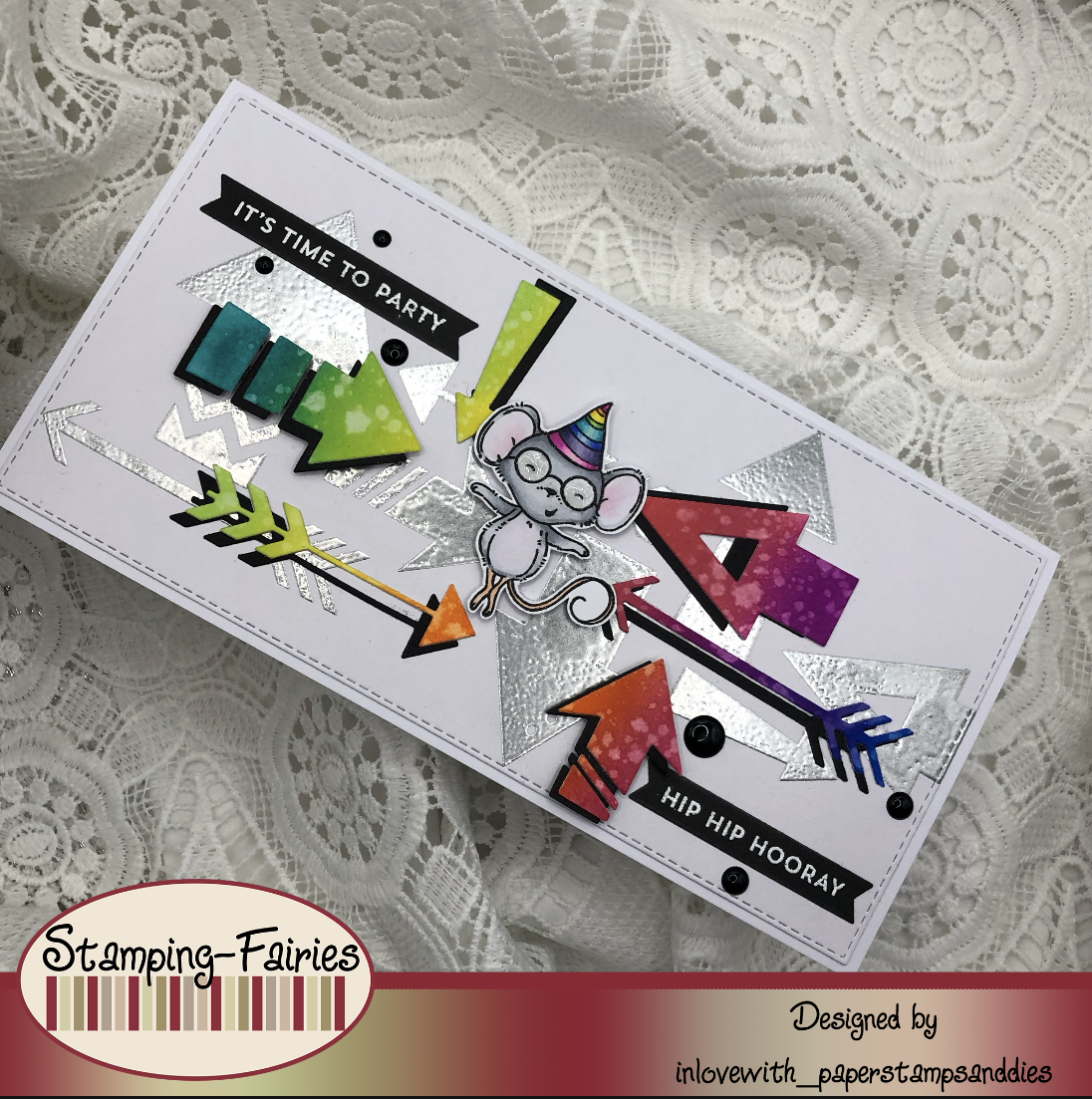 It's Time To Party!
1. Februar 2023
*German version below | Deutsche Version unten*

Hi everyone and Happy Wednesday!

Today I have a birthday card to share with you, but first the list of products I used:
For this birthday card I started with creating the background – I used the arrows from the MFT stamp set "Go With It", inked up the stamps with embossing ink and heat embossed them with silver embossing powder.
I also used the matching dies to cut from black cardstock as well as cardstock scraps that I added my colourful inks to. I adhered the colourful die cuts to the black ones and then glued some of the arrows directly to the card panel with liquid glue and adhered others with foam tape.
I stamped one of the mice from the set "It's A Mice Day To Celebrate", coloured in the image with my alcohol markers and – as always – put back the image into my stamping platform in order to stamp the image again with Versafine Onyx Black Ink. I then added clear embossing powder to it.
For the sentiment I decided to use two of the shorter options from the "Bitty Birthday Wishes" stamp set, here I white heat embossed the sentiments on black card stock.
For some finishing touches I added Glossy Accents to the glasses and also added some Enamel Dots.
I hope you like this birthday card, would love to hear from you in the comments.
See you next week!
Kati | inlovewith_paperstampsanddies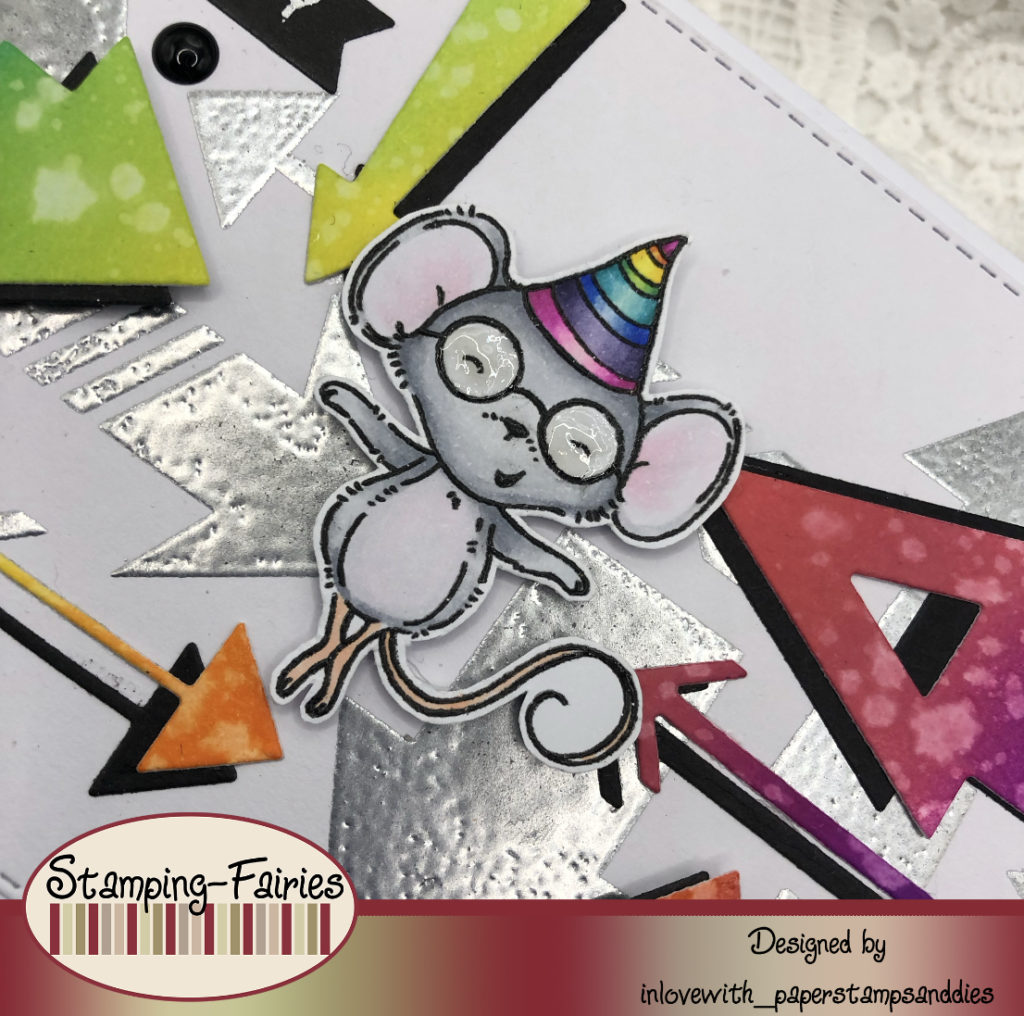 *Deutsche Version*

Hallo zusammen!

Heute habe ich wieder eine Geburtstagskarte für Euch, hier aber wie immer erst einmal eine Übersicht der verwendeten Artikel:
Bei dieser Geburtstagskarte habe ich wieder zuerst den Hintergrund gestaltet, ich habe verschiedene Pfeile aus dem MFT Stempelset "Go With It" verwendet, diese mit Embossingtinte gestempelt und anschließend silbernes Embossingpulver verwendet.
Mit den passenden Stanzen habe ich außerdem die Pfeile aus schwarzem Cardstock ausgestanzt und ein weiteres Mal aus Restpapier, auf dem ich vorher meine bunten Inks gewischt habe. Die schwarzen ausgestanzten Pfeile habe ich versetzt hinter den bunten Pfeilen aufgebracht, danach habe ich diese abwechselnd direkt auf dem Kartenaufleger und erhöht mit Foam Tape aufgebracht.
Ich habe eine der Mäuse aus dem Stempelset "It's A Mice Day To Celebrate" verwendet, diese mit meinen Alkoholmarkern coloriert und danach das Motiv erneut mit Versafine Onyx Black Ink gestempelt um das Motiv anschließend klar zu embossen.
Ich habe außerdem zwei Sprüche aus dem Set "Bitty Birthday Wishes" verwendet, diese habe ich mit Embossingtinte auf schwarzem Cardstock abgestempelt und anschließend weißes Embossingpulver verwendet.
Für die finalen Touches habe ich noch Enamel Dots angebracht sowie auf der Brille der Maus Glossy Accents aufgebracht.
Ich hoffe, dass Euch diese Geburtstagskarte gefällt – lasst es mich gerne in den Kommentaren wissen!

Bis nächste Woche!
Kati | inlovewith_paperstampsanddies

Das könnte dich auch interessieren
20. Juli 2019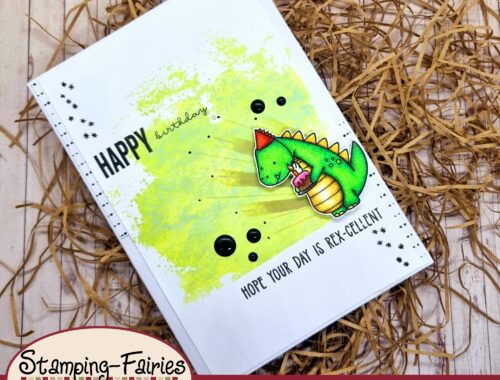 21. September 2023
30. Dezember 2019