Let's Celebrate YOU
19. Oktober 2022
*German version below | Deutsche Version unten*

Hi there – hope you are having a great week so far! Are you ready for yet another colourful inspiration? 😉
But first, let me share with you which products I used:
As always I started with die cutting the panel, I decided to go with a slimline style this time. I am super bad when it comes to cutting straight edges, hence using frame dies. 😉
I knew I wanted to use the "Star Extraordinaire" stencil but wasn't sure yet how to best position the stars. Should I go with 3 stars that are close to each other but don't overlap or shall I go with 4 stars that definitely overlap? As you can see from the pictures I decided to go with three stars.
Again, I am not good at all lining things up straight and therefore purposely went with placing the stars on the panel wonky. I started to stencil the middle star and then went on with the other two stars on either side. And OF COURSE I had to go with rainbow colours! 😉 A few silver metallic splatters
I also finally wanted to use the "You" die that I had in my stash for a while – the die had been used by other design team members on recent cards and seeing these cards convinced me to give it a go.
I ended up cutting the "You" twice, once from holographic paper and once from black paper, glued the two pieces together but shifted the lower die a bit.
I need critters on my cards to be happy and ended up using two different stamp sets, "Birthday Chicks" and "Birthday Buds".
I started with colouring the images in neutral colours (the chicks in yellow, the mouse and the bunny in grey) but left the accessories (the balloon, the party hats and so on) white for now.
I couldn't decide how to arrange the critters on the panel so I spent what felt like hours moving the images from left to right, back to left until I managed to settle on a final placement. Once I was good to go I coloured in the remaining parts (of course this needs to match the background 😉) and glued everything down. I hope it is not only me being so indecisive?!
I really do hope you like today's colourful card – would love to hear from you in the comments! 😊
Have the most wonderful day ahead!
Kati | inlovewith_paperstampsanddies
*Deutsche Version *
Hallo zusammen – seit meinem letzten Post sind zwei Wochen vergangen, daher wird es nun definitiv Zeit für eine weitere bunte Karte! 😊 Seid Ihr bereit? 😉
Hier aber erst einmal eine Übersicht der verwendeten Materialien.
Und nun möchte ich Euch noch mitnehmen, wie ich die Karte gestaltet habe. 😊
Ich habe wieder damit begonnen, den Aufleger mit einer Randstanze im DIN Lang Format auszustanzen. Anschließend habe ich mir die Stern-Schablone geschnappt und erst einmal ausprobiert, wie ich die Sterne am besten positioniere – sollen es drei Sterne sein, die nah aneinander sind aber sich nicht überlappen oder doch lieber vier Sterne, die dann enger beieinander sind? Ich habe mich – wie Ihr ja auf den Bildern seht – letztendlich für drei Sterne entschieden. Ich habe also mit dem mittigen Stern angefangen und den Stern bewusst schief platziert (gerade und akkurat klappt meistens bei mir nicht so besonders gut) und mit meinen bunten Farben gewischt. Dann noch den linken sowie den rechten Stern um die Fläche zu füllen. Und natürlich wurde es farblich gesehen wieder ein Regenbogen. Ein paar silberne Spritzer durften auch noch mit drauf!
Und dann wollte ich die "You" Stanze unterbringen – kommt Euch die Stanze bekannt vor? Richtig! Einige der anderen Designteam-Mädls haben sie auch erst vor kurzem verwendet und haben mich mit ihren Karten inspiriert die Stanze endlich mal zu benutzen. 😉
Also habe ich den Schriftzug zweimal gestanzt, einmal aus holographischem Papier und dann aus schwarzem Papier und anschließend leicht versetzt aufeinandergeklebt.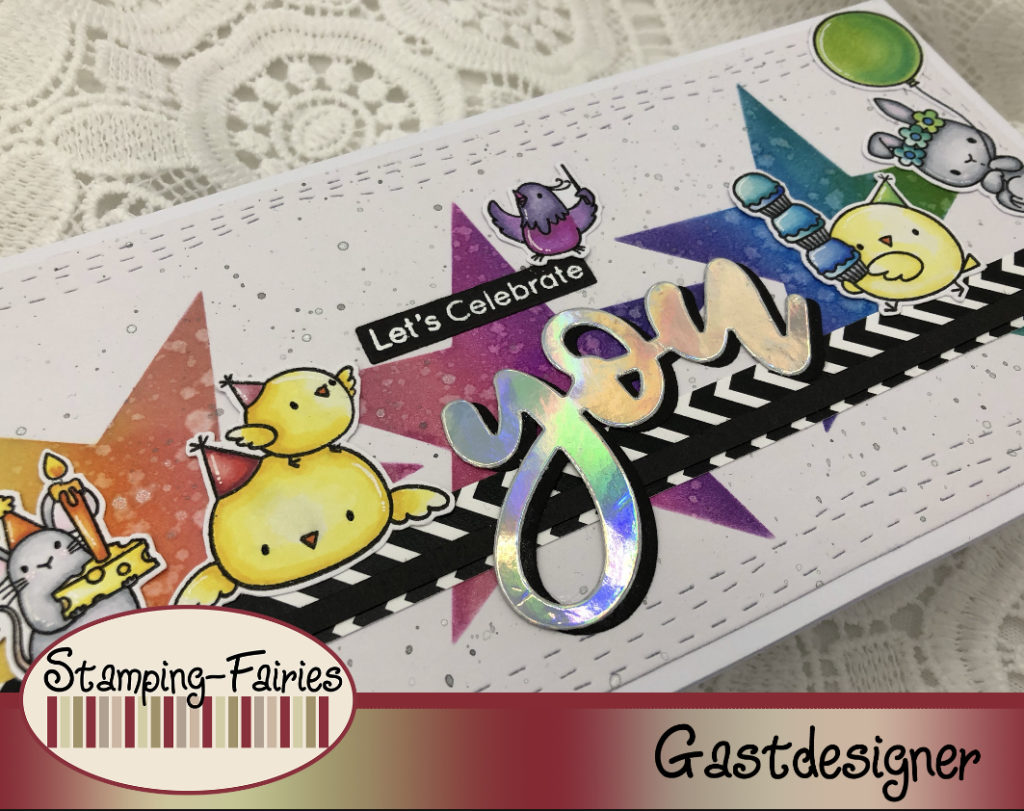 Anschließend habe ich mich an die "Critter" gemacht, ohne geht's bei mir ja einfach nicht. Ich habe hierzu mehrere Motive aus den Stempelsets "Birthday Chick" sowie "Birthday Buds" abgestempelt und angefangen zu colorieren.
Da ich aber noch nicht wusste, wo genau ich die Tierchen auf der Karte platziere habe ich erst einmal nur die "neutralen" Farben verwendet. D.h. grau für die Maus und den Hasen, die Küken in gelb aber die Partyhüte, die Kerze, den Luftballon etc. habe ich freigelassen.
Danach habe gefühlt Stunden damit verbracht, die Critter von links nach rechts, wieder zurück und dann doch nochmal auf die andere Seite zu schieben bis ich mich für das finale Layout entschieden habe. Geht es Euch auch manchmal so, dass Ihr Euch einfach nicht entscheiden könnt?
Also habe ich im Anschluss noch alle fehlenden Teile (Kerze, Luftballon, etc.) coloriert damit es farblich mit dem Hintergrund übereinstimmt.
Ich hoffe, Euch gefällt die Karte – lasst mir gerne eine Nachricht da! 😊
Bis bald,
Kati (inlovewith_paperstampsanddies)


Das könnte dich auch interessieren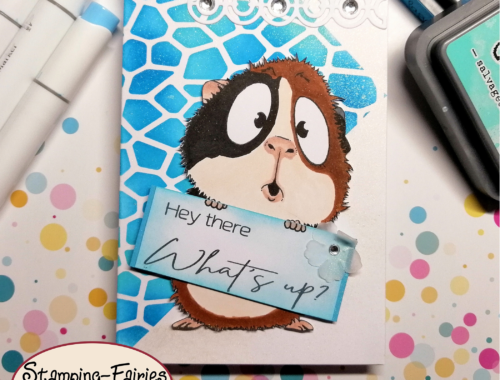 15. August 2022
13. November 2023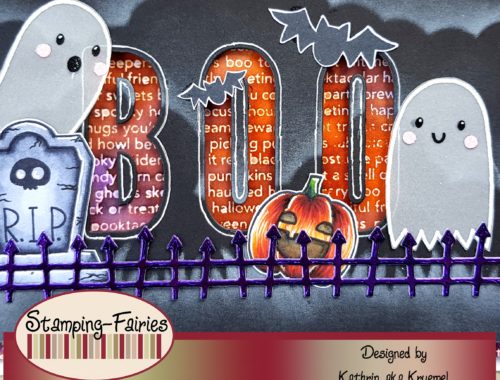 29. September 2020